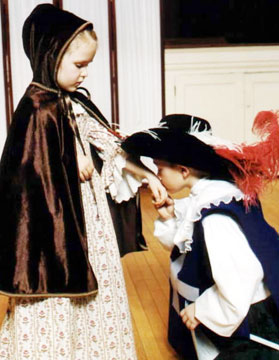 The Three Musketeers
Finally a play for boys! This is a vigorous and swashbuckling adaptation of Alexandre Dumas' novel by the same title. We have even included some old fashioned swordfighting scenes! Your audiences will love this play but not as much as your cast! It is great fun while preserving the original noble intent of the story by Dumas. We have included nearly eighty illustrations by Maurice Leloir, the famous French artist who was commissioned to illustrated Dumas' first edition of The Three Musketeers. These illustrations have been used as title pages, scene dividers and scene illustrators. The children will love them!

Story summary: The time is 1625 - an age of high adventure, romance and brave deeds. The place is Paris. Our story, set during the reign of Louis XIII of France and Cardinal Richelieu, tells the true tale of Charles de Batz d'Artagnan, a young nobleman who leaves his country estate in Gascony at the age of nineteen to join the King's Musketeers. His swashbuckling soul, animated by honor, loyalty and shrewd intelligence, courts perilous adventures and romantic intrigues. Through them all, and with his valiant companions-in-arms, Athos, Porthos and Aramis, he outsmarts evil and pierces to the heart of goodness.

Cast: 13 male roles (10 principal and 3 minor); 4 female principal roles. Optional 12 "extras".
Note: Six additional "extra" roles of the Cardinals' Guardsmen, and six additional "extra" roles of Ladies-in Waiting to the Queen may be added if you have more girls and boys to fill roles.
To order this play, please click here.

Running Time: 1 hour 5 minutes. No intermission